The Benefits of Kickboxing
26 November 2012

26 November 2012

Kickboxing is a relatively new way of getting both the strength endurance gains of a long gym session and the body toning of a run. Burning 800 calories in just 60 minutes and using an array of different punches and kicks, it is not only a fantastic form of intensive exercise but also a great way of having fun, especially if it's on one of our fitness holidays. Originally it was used in a competitive combative context but nowadays a kickboxing session doesn't necessarily teach you the skills to fight. So the question arises, what are the other benefits of kickboxing?
Improves stamina, agility and coordination
Physically, it is a phenomenally cardio-intensive full body workout, burning plenty of calories whilst creating an enjoyable atmosphere. Your core is put to the test, as tension in the abdominals is required when performing punches or kicks, which in turn develops better posture and increased balance. The sheer amount of these movements has numerous benefits, ranging from increased flexibility to growths in strength endurance. As a result, it may help to combat the loss of agility either due to inactivity or ageing. Throughout classes, the experienced instructors guide class members through stages such as stretching and working the punch bag. The ability to react quickly to instructions and situations enables participants to rapidly improve coordination and reflexes, leaving you feeling sharper than ever.


Reduces stress and frustration
Evidently kickboxing has an extensive list of physical benefits, however some of the sport's most overlooked values are those mental advantages. Just as any form of exercise does, kickboxing releases endorphins into the blood, which act as a mood-booster and de-stressing hormone. The act of hitting a punch bag is also a brilliant medium of removing frustration that may have built up over time, allowing you to be refreshed and reinvigorated by the sessions.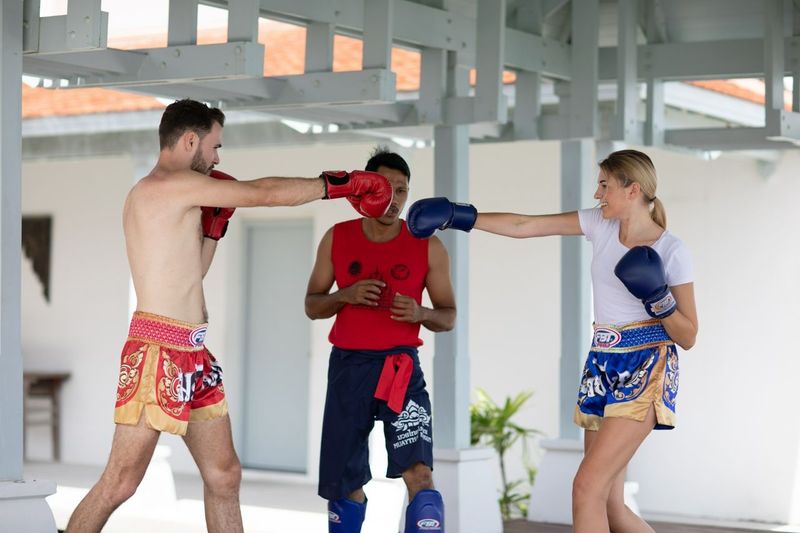 Increases determination and self-confidence
Techniques learnt from class instructors can give you a self-confidence boost, knowing that if the situation does ever arise, you know the correct self-defence techniques and are confident to use them. As one of the principles which karate is based on, self-discipline has permeated through to kickboxing and is acquired by participants throughout sessions. Subsequently, these classes have been known to develop an individual's inner strength and determination significantly.
Reinvigorates your motivation to exercise
Exercise classes, including kickboxing, are a great way to alleviate a common problem of 'gym boredom'. By combining a cardio-intense session with a testing muscle workout, the versatile nature of kickboxing lends itself to reinvigorating your motivation to exercise and essentially have fun again. Furthermore, the combination of the two forms of cardio and body conditioning means a significant amount of valuable time is saved, as you don't have to go for that long gym session followed by that arduous run!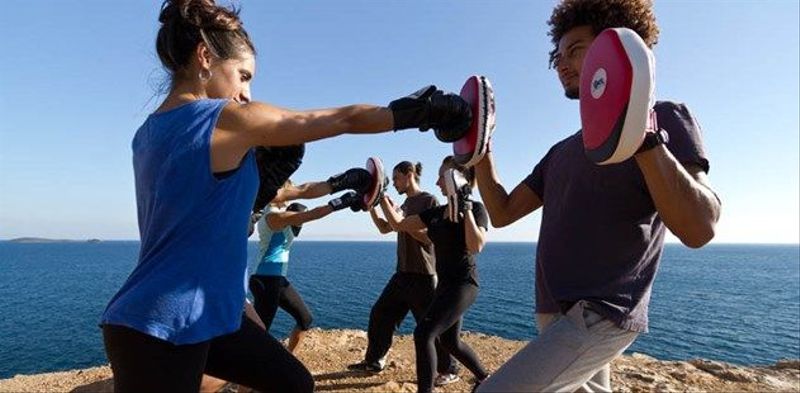 A one-on-one kickboxing session on the beach


Muay Thai and kickboxing can both be very progressive and inclusive forms of exercise, suited to all levels from beginners to advanced, enabling anyone to participate. For example, wrist and ankle weights can be attached to increase the difficulty of sessions for those that would wish to progress further. Combining kickboxing with other exercise classes on a multi-activity holiday is a great way to stay active and find the motivation you need to improve your fitness or kick-start a weight-loss programme. What's more, kickboxing is something that can be appreciated by all fitness levels and is remarkably enjoyable, whether you take part in it as a couple, group, or as a solo traveller. 
Now that you've heard some of the amazing benefits kickboxing can have, you may be wondering how to get involved. With qualified and experienced professionals guiding participants through each part of the session, a great way to start one of the Muay Thai classes is at Absolute Sanctuary in Thailand. Here you can take part in fantastic sessions every day, with the option to be in a kickboxing ring, giving you the perfect opportunity to learn from the best and workout in stunning surroundings.
If beaches sound like a more appealing training arena, then our exclusive Sun Gardens Dubrovnik Fusion Fitness holiday in Croatia offers you a number of cardio activities to choose from, including kickboxing sessions on the beach with UK gold medallist Faye Maloney. Or why not try out some beach boxing in gorgeous scenery at The BodyHoliday in St Lucia. Combining one of the world's most beautiful islands and a brilliant, wide-ranging number of fitness classes, it is a truly unique holiday to begin your kickboxing journey on. If you are looking to really put your fitness to the test, a Bootcamp Holiday would fit the bill. You can participate in a beach boxing class as one of your two daily bootcamp classes. Whichever way you go about it, get stuck in to some kickboxing or Muay Thai training and enjoy the benefits long after you return.

Talk to one of our Travel Specialists on 0203 397 8891 or contact us here to discuss tailor-making your perfect healthy holiday