Joanna's Review of The Body Camp Mallorca
23 September 2019

23 September 2019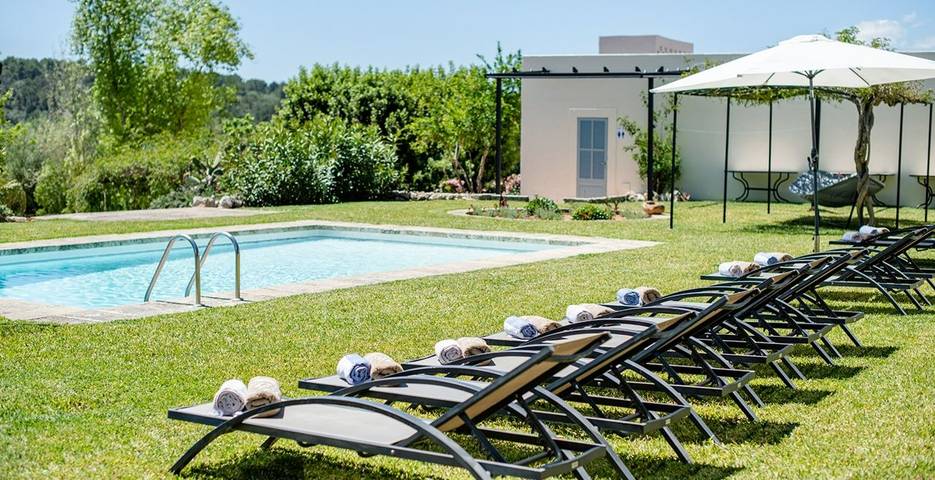 What is The Body Camp and who's it for?
The Body Camp Mallorca is a group retreat which offers a carefully designed fitness programme, aiming to motivate guests to achieve their fitness and health goals by addressing current lifestyle choices and supporting you in changing your habits physically and mentally.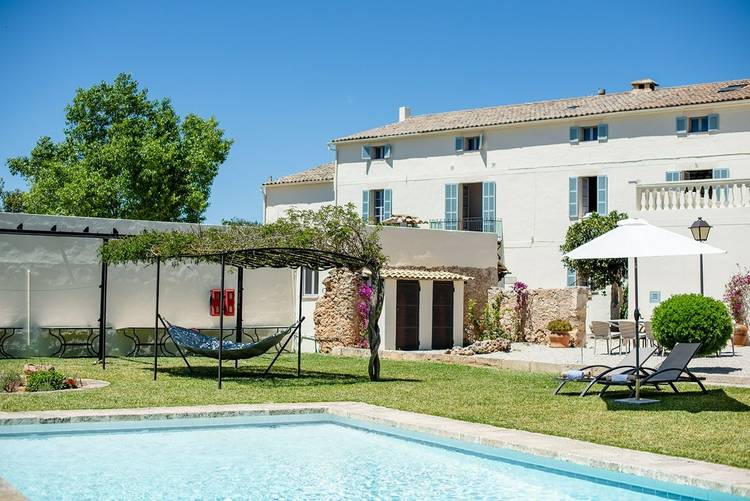 The Body Camp Mallorca is a group retreat which offers a carefully designed fitness programme, aiming to motivate guests to achieve their fitness and health goals by addressing current lifestyle choices and supporting you in changing your habits physically and mentally.
Welcoming up to 30 guests of all different ages and fitness levels, The Body Camp offers group activities every morning between 7am – 1pm with additional optional fitness in the afternoon for those who want to push themselves a bit more. For those who want some downtime can relax by the pool, take advantage of the incredible spa treatments or explore the island.
Most guests come for the full week-long experience (and sometimes more), although 3 or 4-day stays are also an option. Perfect for solo travelers, couples and friends alike, expect your stay to be filled with fitness, positivity, a delicious plant-based diet and plenty of laughs.
Getting There
Located in the heart of the island of Mallorca, there are frequent flights from the UK to Palma all year round. Being just a 2-hour flight away from the UK, The Body Camp is an ideal location for a week to rest your mind and body in a sunny and secluded location without the jetlag.
The villa is just a half hour drive away from Palma airport and approximately 45 euros. Check is between 4pm and 8pm but if you do arrive earlier, you have the chance to go into Palma and leave your bags in one of the luggage lockers and explore Palma's picturesque Old Town, soaking up the culture.
The Hotel and Accommodation
Spread over 25 acres of land, The Body Camp is set in a rustic country retreat and is decorated throughout in a clean and simple décor. Offering 11 en-suite rooms and suites, there are options for different budgets for shared rooms or sole occupancy for those who prefer their own space. 
The house itself has a very inviting, tranquil and relaxing vibe that allows you to feel at home after an invigorating day of fitness. The living area has a cosy sofa and fireplace – the perfect spot for movie nights on the cooler evening, as well as an indoor and outdoor dining area which offers beautiful views of the Mallorcan countryside.
There is a well-equipped 24-hour disco gym and yoga studio as well as a hydration station offering a variety of herbal teas and deliciously infused water, to keep you hydrated throughout the day.
The Programme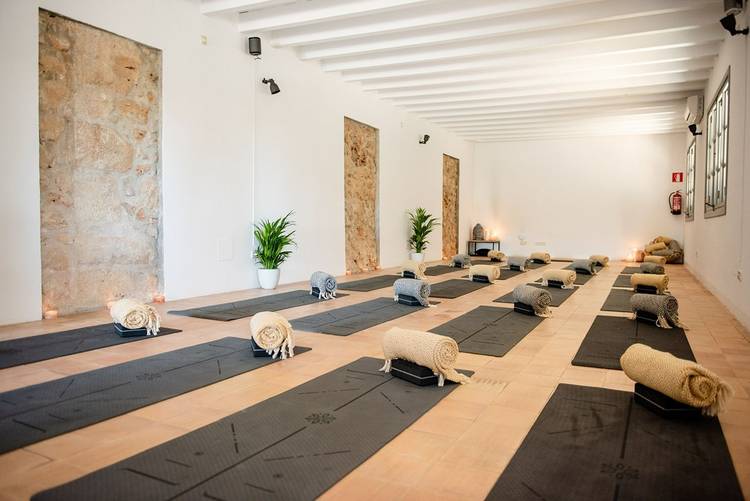 A welcome dinner takes place on the first day where you will have the opportunity to meet your fellow campers, along with the chance to take your measurements and discuss your goals for the week.
The programme has been carefully designed to allow you to work different parts of your body and recover throughout the week with a mix of hikes, bleep tests, yoga, fitness and self-reflection sessions, as well as the cooking demonstrations and a Q&A on the benefits of a plant based diet.
No day is ever the same and the days plans are normally released the evening before with everybody working out together between 7am – 1pm and more optional fitness afterwards.
If you are after a fitness holiday in the sun, this is a great option! Contrary to the typical military style bootcamp that might come to mind upon hearing the words 'fitness camp' this is the total opposite. Anthony, the PT was the most enthusiastic and energetic trainer I have ever met, and he made it easy to forget we were actually exercising with his many dances and costumes. You're encouraged to push yourself out of your comfort zone and work yourself to the best of your own ability; initially I had been worried about keeping up and pushing through the muscle ache but following the ethos of the camp to push the negative thoughts out, time flew by without realizing we'd done 4 hours of exercise before 1pm, and wanting to do more in the afternoon.
The Spa
The Body Camp offers a range of treatments which can be booked on arrival, from massages to ease out the muscle ache, to facials to supplement your glow, as well as access to healers to integrate yourself into the full experience. There is no spa as such, but rooms for the holistic treatments.
Food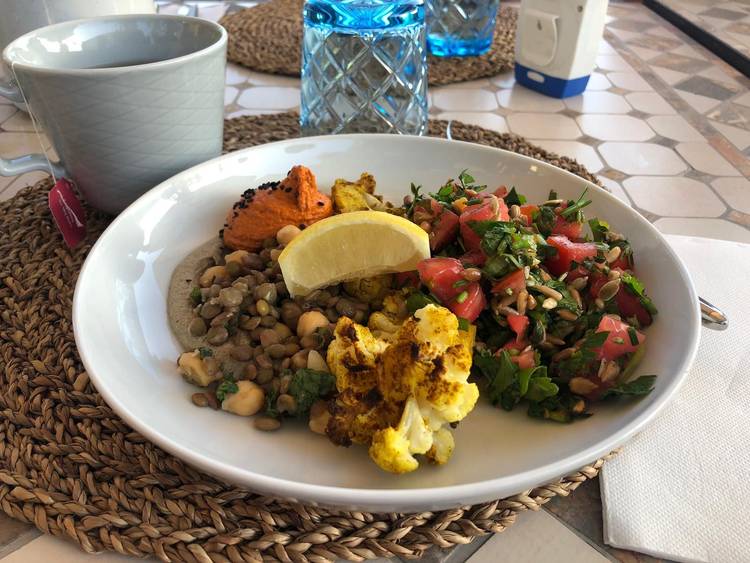 Part of The Body Camp experience is the culinary experience led by co-founder and chef, Ben Whale. The Body Camp offers 100% plant-based and gluten-free menu with no refined sugars, with all dietary requirements catered for, as well as likes and dislikes.
Everybody eats together family-style, at set times with 3 meals and 2 snacks a day and the portion sizes are dependent on your goals which is discussed at the start of your stay.
The meals and snacks are all creative and beautifully presented and flavoursome. From guilt free pancakes for breakfast to the delicious Thai green curry, which was constantly reminisced about throughout the week.
There is no alcohol available although there is coffee limited in the mornings only. Throughout the day, you will spend a lot of time in the hydration station with a range of herbal teas and fruit infused waters.
The staff
There's no doubt that it's the staff at The Body Camp who make the experience. Greeted with a hug on arrival by Georgie and Lucy, I was made to feel welcome within seconds of arriving.
You can tell the staff are truly passionate about what they do and everybody pitching together with a 'nothing is any bother' attitude. With their infectious and endless energy, it's hard not to giggle and dance along with them.
Highlights
The food – The initial 2 days on the diet were difficult, which is completely normal stage of the detox process, but I felt completely energized after this. I learnt that the recipes are easy to make to do at home.
The digital detox – you're encouraged to keep phone usage to a minimum and it was nice to be able to appreciate my surroundings which is something I am now trying to do more back home.
The exercise – Even on day 3, when my muscles were aching, I was able to push through the pain and carry on, something I hadn't realized I could do before, and the week flew by far too quickly.
My Summary and Verdict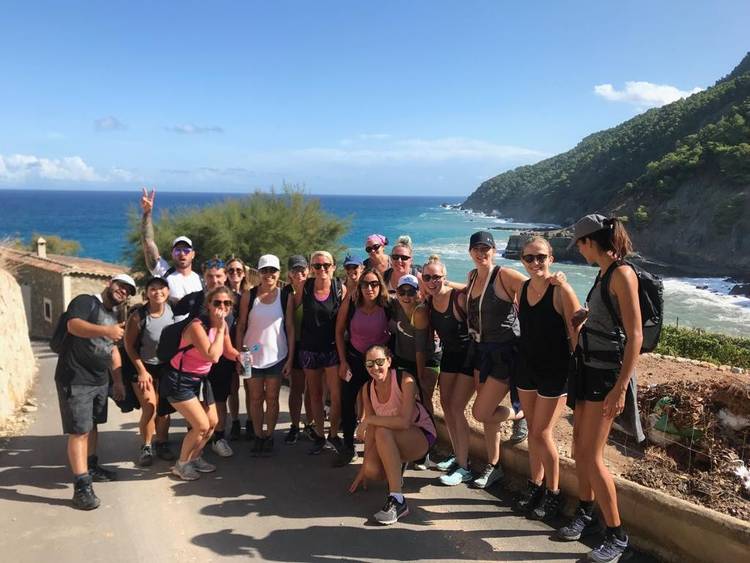 If you're looking for a week of fitness in a fun, sociable group environment to spend with like-minded people, then there's no doubt that you will find this at The Body Camp Mallorca.  Yes, there are a lot of press ups, sit ups and weights involved, but I can easily say that I have never laughed as much whilst squatting.
It's no surprise that The Body Camp is so popular with celebrity fans including Caroline Flack, Emma Willis and Mel C. The Body Camp offers an idyllic setting for anybody looking for a week of fitness and relaxation in a fun, sociable group environment.
While the camp doesn't offer extreme weight loss, be prepared to push yourself out of your comfort zone as the camp doesn't just focus on your physical wellbeing but will help you learn to understand and improve yourself emotionally.
The Scenery and Surroundings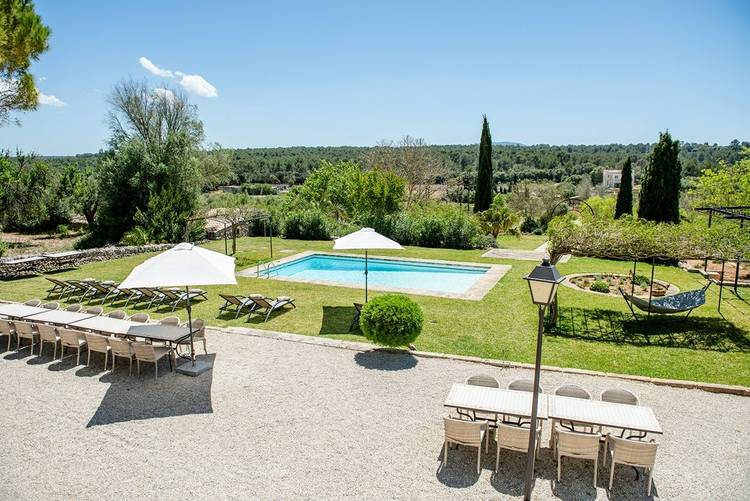 The retreat is set in a quiet location so I would recommend hiring a car if you wanted to explore the local area or beaches which is approximately a 45-minute drive away. You will also have the opportunity to borrow a bike and explore the local villages in the afternoons. Not all the fitness takes place onsite, and one of my highlights was the morning hike where you can take in the stunning scenery.
How to Book
To request a quote or for more information visit our The Body Camp Mallorca page.
Talk to one of our Travel Specialists on 0203 397 8891 or contact us here to discuss tailor-making your perfect wellness holiday.
Fact Box
Best time of the year to go: April to November 
Months to book in advance for: The summer season
No. of Rooms: 11
Check-in/check-out:  16:00 / 09:00
Wi-Fi: Yes
Children: Over 16 year old's only
Alcohol: No
Nearest Airport: Palma de Mallorca
Airport transfer time: 45 minutes
Address: The Body Camp Country Retreat, Cami De Ca Na Miquela, Sencelles, 07140