Claudia's Review of Fusion Maia Da Nang, Vietnam
21 July 2017

21 July 2017

What is Fusion Maia in Da Nang and who's it for?
Fusion Maia Da Nang is Vietnam's most unique, forward-thinking and individually oriented 5 star hotel. Since its launch in 2008, Fusion Maia has continuously promoted and embraced the idea of "it's not a holiday, it's a lifestyle." It's the first Vietnamese resort to offer the all-spa-inclusive concept, which means each of our guests has a minimum of 2 spa treatments per day; with the possibility of even more, depending on availability. It's ideal for guests looking to de-stress, relax and kick start healthy eating habits with a touch of luxury and elegance. Yoga and Tai Chi are the core elements on Fusion Maia's group class schedule and the atmosphere across the entire resort is very zen and peaceful.


Getting There and what's around it
Fusion Maia is situated in Da Nang, a coastal city in central Vietnam known for its sandy beaches and paradise looks. Da Nang International airport is a 30 minutes' drive away, which is the same time it takes to get to the nearby stunning town of Hoi An. A day trip to Hoi An is a must, as this super well preserved ancient town is truly incredible – I had a great time walking around the street market and getting to know the town. Its architecture is a mix of eras and styles from wooden Chinese shophouses and temples to colourful French colonial buildings, ornate Vietnamese tube houses and the iconic Japanese Bridge with its pagoda.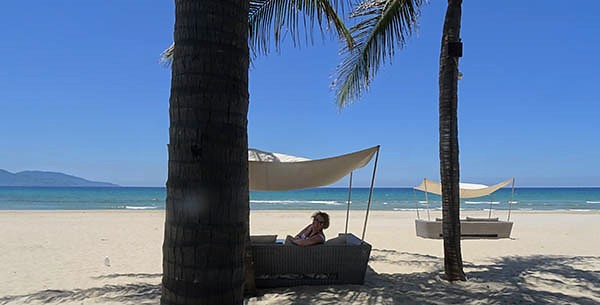 Claudia relaxing on Da Nang Beach 


The Hotel & Accommodation
There are 87 beautiful villas in Fusion Maia and all of them come with a private swimming pool - the ultimate luxury I was looking for! There's nothing like the privacy of your own enclosed swimming pool to relax and unwind any time of the day or night you feel like. Not to mention how spacious, clean, homely and comfortable they are! I felt truly spoilt with my villa and could not ask for more. The decoration is very elegant and portrays the hotel's vibe: calm, restful and soothing. Additional features in my villa included coffee machine, mini bar, air conditioning, complimentary Wi-fi and lots of little wonderful touches, such as handwritten notes from my spa therapist and daily inspirational cards celebrating their Natural Living Programme (each day of the week is dedicated to a different well-being practice to promote health and happiness).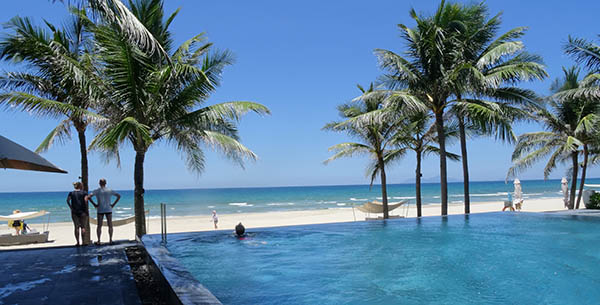 Cool off in the beautiful beach side pool 


The Spa
Fusion Maia's Spa can only be described as magnificent! There are 16 double rooms, 6 single rooms and 2 beauty rooms with space for 6 guests each. The team includes 86 therapists, 40 Reiki certified healers and 7 Reiki Masters. Each guest gets a minimum of two spa treatments per day and if you fancy a third one, the team of spa receptionists will go a long way to accommodate your request - they are very helpful and welcoming. I've never visited an all-spa-included hotel before and now I see why the concept works so well with guests - the level of relaxation, peace and well-being achieved at the end my stay was priceless.
My favourite treatments were the Fusion Feeling (touch of brushes to wake up the senses using hot coconut oil), the Himalayan Heart Stone Massage (warm salt stones and pomelo oil are used to promote inner peace and clear any negative vibrations), the Reiki (a Japanese healing technique) and the Warm Ayurvedic Pressure Massage (a calming massage performed using different oils to release tension and blocked emotions).
The team, predominantly local Vietnamese, are full of energy, smiles and always ready to help. My Fusionista, Izume, was a pleasure to have around during my stay; it's such a great idea to allocate a Fusionista to help and guide guests during their holiday, something I haven't seen anywhere else. I travelled solo and Izume helped me with choosing the right spa treatments for my needs, the right Yoga and Tai Chi classes for my level and helped organise my visit to the nearby town of Hoi An.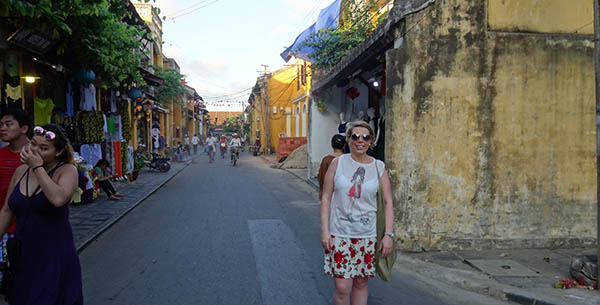 Claudia enjoying a cultural trip to the nearby town of Hoi An 


Yoga
Yoga, meditation and Tai Chi are the key activities on the daily group class schedule at Fusion Maia, hence their reputation when it comes to yoga and meditation. A choice of 12 classes per day to choose from felt like paradise to me! I made a little effort to wake up every day at 6am, just in time for a swim in the sea before the 7am Pranayama class - followed by a Vinyasa flow class at 7:30. There are two yoga spaces in the hotel - the Seafront Yoga Shala and the indoor airconditioned Yoga Studio - each of them best suited to different times of the day (it can be very hot outside between 9am and 5pm, when most Yoga classes are hosted in the studio). Expect classes varying from Laughter Breathing, Sweet Dreams Meditation, Dancing Dragon Yoga and other Kung Fu inspired animals, Mindful Eating Apple, Yin & Yang Balance and Yoga for Metabolism. They can all be adapted to different levels and guests can also book private yoga sessions (additional cost). A heaven for yoga and meditation lovers, such as myself, making it a great destination for a yoga and meditation retreat.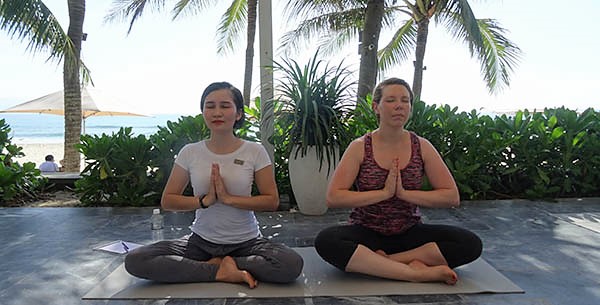 Claudia perfecting her meditation technique 


Food and Restaurants
Healthy nutrition is in the heart of Fusion Maia values and the two restaurants are committed to offer the best natural, healthy and organic meals without compromising on the amazing Asian flavours. They have an organic garden and all the fresh ingredients are picked daily.  The Fresh Restaurant, located by the pool and close to the beachfront is well known for great salads and seafood. The Five Restaurant (as Five Senses) serves delicious traditional Vietnamese dishes – a vibrating menu inspired in different textures and flavours. After tasting their Pho (traditional Vietnamese noodle soup) I couldn't order anything else on the menu - It was the best I've ever had!
I also took part in a cooking class where the Fusion chefs prepared healthy and easy to make dishes in front of us. I really enjoyed it and couldn't believe how simple they were to prepare. I took the recipe book home with me and have already made some Sunflower & Rose Sprinkles and the super tasty Lemon & Poppy Bliss Balls - the family loved them!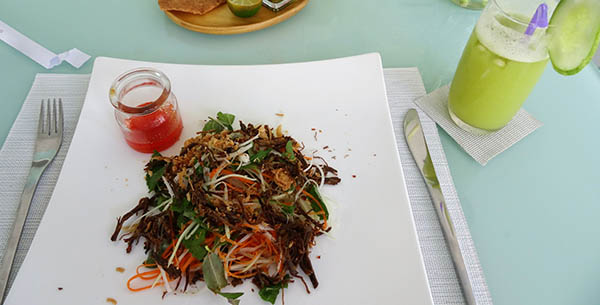 Replenish your body with delicious Vietnamese cuisine


The Wellness Programmes
In addition to the wellness programmes Yoga, Alkaline Diet, Raw Food Detox and Juice Cleansing Detox, Fusion Maia does a remarkable job at promoting their Natural Living Philosophy, the seven practices necessary to achieve maximum well-being and experience unconditional love and happiness. Each day of the week is dedicated to a different practice: Balance Emotions, Eat Well, Get Social, Enjoy Nature, Be Active, Open your Mind and Act Mindfully. The entire hotel makes efforts to encourage the seven practices and everyone gets involved, just like a family.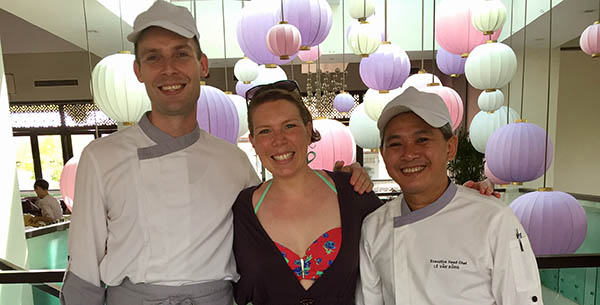 Claudia with the Head Chefs


Highlights and interesting facts
'Breakfast any time and place' philosophy – I had my breakfasts served in different parts of the hotel and on the beach, and never had to worry about being too early or too late to order.
The gym is very well-equipped and I had a great personal training session with the resident fitness instructor.
Yoga, meditation and tai chi choices of classes are simply amazing. The teachers are kind and professional. The Beachfront Yoga Shala is extremely beautiful and peaceful.
All food is very healthy and tasty. The vegan menu is varied and exciting, I don't regularly follow a vegan diet but was very impressed with choices and how delicious the dishes are.
The family feeling between the members of staff is really touching. When new members of staff join the team they are placed under the wings of big brothers or sisters. They all work with a strong sense of 'serving from the heart'.
The Fusionista concept works very well - someone to advise, help and guide your wellness journey.
The Spa Manager visits local monks in search of inspiration and advice on Spa treatments.
The Reiki masters and healers promote spiritual healing and self-improvement that everyone can use. They do their training in-house, when the knowledge is transferred from master to student in a way that allows the student to tap into an unlimited supply of "life force energy" to improve guests' health and quality of life.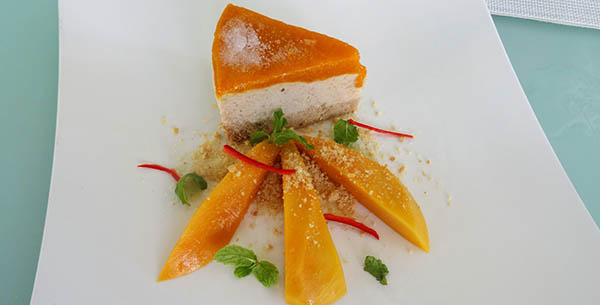 A delicious dessert


My Verdict
Fusion Maia is a perfect destination to relax, de-stress, eat well and focus on yoga and meditation. The all-spa-inclusive concept helped me to achieve a great sense of peace and well-being. I met some wonderful like-minded fellow guests and would definitely recommend it for solo travellers as well as for couples. In fact, I left feeling so happy, relaxed and balanced that I would recommend Fusion Maia for anyone looking to feel that way!


How to Book
To request a quote or for more information visit our Fusion Maia page

Talk to one of our Travel Specialists on 0203 397 8891 or contact us here to discuss tailor-making your perfect wellness holiday.


Fact Box
Best time of the year to go: April to August, but the weather is great throughout the year
No. of Villas: 87
Months to book in advance for: April to August
Check-in/check-out: 13:00 / 11:00
Wi-Fi: Complimentary and available in all areas
Children: Not allowed in the Spa facilities
Reception/Room Service: 24h
Alcohol: Available
Nearest Airport: Da Nang International Airport
Airport transfer time: 30 minutes  
Address: Võ Nguyên Giáp, Q. Ngũ Hành Sơn, Đà Nẵng 557276, Vietnam