Bootcamp or Fitness Holiday?

When planning an activity holiday, how do you know which type to choose? Do you want to take things at your own pace, or take a more direct route to help kick-start a healthy new fitness regime? There is a wide range of exciting health and fitness breaks available that all boast fun and exhilarating ways to help you slim down, get fit, and shift those last few stubborn pounds. We offer two distinctive options for those looking for an energetic getaway; bootcamp holidays and fitness holidays, but which one is right for you?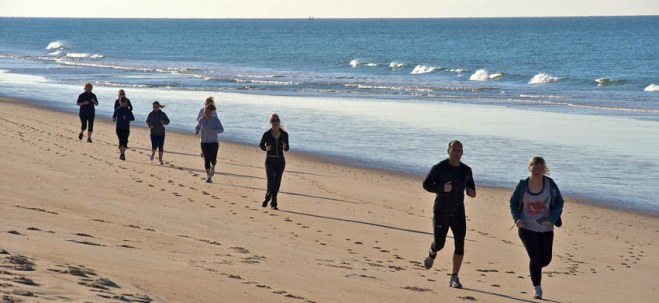 Beach running at the Luxury Algarve Bootcamp

Bootcamp retreats are ideal for people looking for short, structured and enjoyable fitness breaks with others, which can cover everything from circuit training and yoga to power walking and boxing. With a selection of active options available, workouts can vary from day to day, to keep you and your body guessing. At the Luxury Algarve Bootcamp in Portugal, head trainer Marco Baoia understands the key to fast and noticeable results is a fixed routine of up to 8 hours a day of heart-pumping fitness sessions and proper nutrition. Bootcamp sessions generally range between 30 minutes to an hour, with intense circuits keeping the activities short and sweet. What's more, bootcamp holidays are an engaging and thoroughly enjoyable way to get fit; enabling you to have fun and workout in the company of friendly, likeminded holidaymakers.
A slightly more relaxed but equally beneficial option is a fitness holiday, where you can enjoy holistic activities as well as relaxing spa treatments for those looking to unwind after an action-packed day. Work up a sweat with daily fitness sessions, as well as outdoor sporting activities and even bespoke workouts with a personal trainer. There is also scope to try something new so whether you want to have a go at tennis, try a round of golf, or learn the basics of Muay Thai kickboxing; our fitness holidays are as flexible as you are! At Aguas de Ibiza, the friendly and attentive team run a variety of exciting group retreats throughout the year; where you can make the most of the excellent wellness programmes on offer and learn how to lead a more active and healthy lifestyle.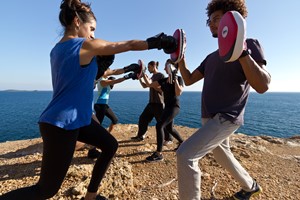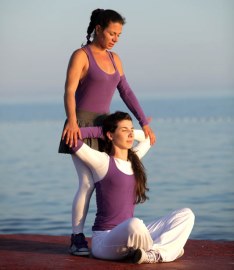 If you're looking for a tailor-made healthy holiday experience, look no further than our exclusive Fusion Fitness holidays. With destinations ranging from India and Thailand to Mauritius and St. Lucia, you can personalise your stay to create your dream fitness getaway. Choose private one-to-one lessons, activities and treatments from our four fusion elements – cardio, strength & sport, mind & body and renewal – and make your healthy holiday as active or relaxing as you want it to be. Sessions and treatments vary from location to location but you are always assured of top-class facilities and the chance to push yourself to reach your fitness goals. Our exclusive Fusion Fitness collection is perfect for those looking to combine spa and fitness on holiday.
Our Fusion Fitness holiday at Ananda in the Himalayas for example is ideal for people who want to team adventure with adrenaline-fueled activities and indulgent spa therapies. Experience luxury treatments at the ancient home of Ayurveda, enjoy personalised treks in the foothills and take a white water rafting trip down the River Ganges to mention just a selection of the exciting activities on offer at this excellent wellness retreat.
Talk to one of our Travel Specialists on 0203 397 8891 or contact us here to discuss tailor-making your perfect bootcamp or fitness holiday.