Annabel Croft Tennis Holiday
31 October 2013

31 October 2013

Enjoy the perfect tennis holiday week at Aphrodite Hills in Cyprus, hosted by former British No.1 Annabel Croft.
Annabel was world ranked no. 21 in her time as a touring professional and now works as a TV presenter hosting and commentating on the world's top tennis events. Players signing up to Annabel's hosted tennis week will receive some invaluable advice on their game as she works alongside her resident coaches to deliver her unique method of tennis training. These methods of teaching include technical and tactical advice as well as an important analysis of movement.
Annabel will be at her tennis academy in Aphrodite Hills from the 31st March to 5th April for an action packed week of professional tennis coaching and exciting tournaments. This is a perfect opportunity for single travellers looking to play some fantastic tennis and learn more about their game directly from Annabel. You can also unwind at the award-winning spa to soothe tired limbs after a busy day of tennis.
The guideline itinerary for this exclusive week of tennis is as follows:


Sunday
7.00 - 8.00
Cocktails with Annabel in the Carob lounge 
Drink champagne and talk tennis!
Monday

9.30 - 12.00

Court Session 1 - Assessments and Opening Drills
Get your footwork in check and get ready to work hard. This first session will make sure you hit loads of balls and get your positioning for each shot correctly
Tuesday

 

 9.30 - 12.00

Court Session 2 - Groundstroke Techniques 
This session focuses on the improving your basic shots on both forehand and backhand with an emphasis on tactical improvement once you have mastered the shot. Learn how to play a point from the back like the pros!

5.00 - 7.00

Knock Out Singles Tournament
Put your skills to the test in our timed tennis singles tournament.
Wednesday     
 9.30 - 12.00
Court Session 3 - Mastering the Net
Annabel is renowned for her great volleys and will teach everyone how to get those razor sharp skills into play. You will become a fearsome opponent after this session!
12.00 - 1.00
Q&A with Annabel Croft
Ask those questions that you have always wondered about the top players on tour
6.00 - 8.00
Aphrodite Hills Club Night 
Join other players and our local members to a social game of doubles or singles. Hosted by our resident pros, club night is great fun and usually comes with a drink or two to keep the energy going.
Thursday
9.30 - 12.00
Court Session 4 - Speciality Shots
There are many great shots that players never get a chance to practice. Spend this   sessions working on your smashes, drops, dinks and lobs and even try the hot dog
Friday    
 9.30 - 12.00
Court Session 5 - Doubles Drills and Summary
The last session of the week focuses on some key doubles tactics to prepare you for the tournament after lunch. You may also want to take the chance to go over any final points that you have with our summary Q&A.
 3.00 - 5.00
Champions Doubles Tournament 
Partner up and get ready to win the trophy. Use all of your new skills to take the title and be our champion for the week. Then get dressed to impress as you pick up your award at our presentation dinner at 7.30pm.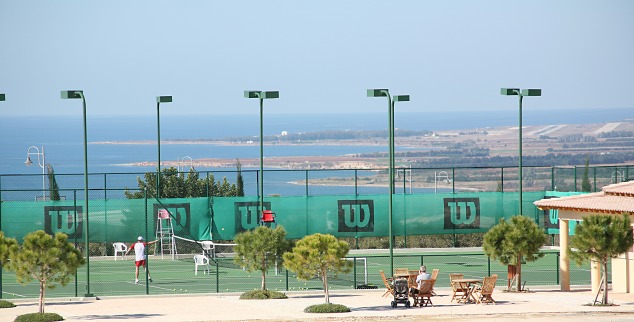 The Aphrodite Hills Tennis Academy 
The Annabel Croft Hosted Tennis Week is available to buy from Health and Fitness Travel as a package for this special hosted week from £1,749 per person and replaces the Grand Slam tennis coaching programme for this week only. It includes 12.5 hours of group tennis coaching, Q&A with Annabel, Tournament and Club Night Entry, Welcome Cocktail Reception, Prize Giving Dinner, Complimentary ACTA T-Shirt and 7 nights' luxury accommodation with breakfast, return flights and transfers.
Places are limited and bookings must be made in advance for this unique coaching experience!
Talk to one of our Travel Specialists on 0203 397 8891 or contact us here to discuss tailor-making your perfect healthy holiday.