5 of the Best Fitness Holidays for Men
02 April 2013

02 April 2013
With life becoming increasingly complex with work, social and family demands, men are finding less time to maintain a healthy lifestyle. Research indicates that stress is not the only illness on the rise; heart disease, diabetes, and high blood pressure are ranked as the top three health issues plaguing men, and all three can be prevented through diet andexercise. And there's no better place to do this than on an active and healthy holiday specifically designed for men.
The modern man is admitting that pressure from work and the inescapable spare tyre are getting them down. They are seeking an adventure that will allow them to escape their stressful workload, whilst getting them back into shape and on a healthy track. This new male getaway concept is being embraced by men who want something more than a weekend trip spent indulging cocktails and nursing hangovers.
Building a six pack and trimming down does not have to be solely about pushing steel or long-winded cycling in the gym. A toned physique can be achieved on a football field or tennis court whilst engaging in one's favourite sports or activities. With a variety of healthy holiday programmes on offer that cater to sport and fitness holidays, men have plenty of healthy options to revamp their fitness routine.
Our exclusive Fusion Fitness™ holidays can cater for all requirements, no matter how intense or relaxed a man wants his holiday to be. By being able to choose from numerous different 1-on-1 activities, fitness training, sports lessons and spa treatments, he is able to tailor-make the holiday to meet his individual needs. For example, he could focus on his love of cycling and also enjoy a personal yoga lesson, followed by a power hike across wonderful landscapes and then finish with an indulging massage.
As a result, we have rounded up our top five Fusion Fitness™ holidays for men. From Ibiza to India, these healthy holidays combine the four fusion elements - Cardio, Strength & Sport, Mind & Body and Renewal - offering men the flexibility to choose their favourite health and fitness activities to suit their goals and interests, and combine them together to create the perfect singles holiday programme.
Top 5 Fusion Fitness Holidays for Men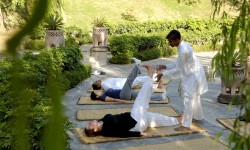 This exclusive
Ananda
Fusion Fitness™ holiday in the foothills of the Himalayas offers the perfect opportunity to add adventure to a fitness escape. Choose from personalised treks, water rafting, fitness training, and unwind with
ayurvedic spa treatments
and a yoga or meditation lesson. By building the ideal programme, have fun whilst on a personal journey to optimal health.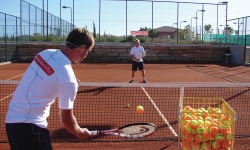 Create the perfect fitness programme on our exclusive Fusion Fitness™ holiday at
Aphrodite Hills
. Enjoy a range of different activities from
tennis
,
golf
, yoga and mountain biking to function training, boxing and
Pilates
. Unwind with
spa treatments
and embrace the spectacular surroundings to shape and tone up. Leave armed with information and good intentions.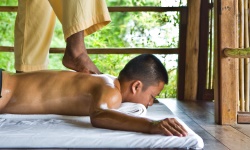 Learn Thai boxing,
practice yoga
, enjoy functional fitness training and be restored with a variety of spa treatments on our exclusive Fusion Fitness™ holiday at
Absolute Sanctuary
. Enjoy all this alongside a daily schedule of yoga classes to include Ashtanga, Hot Flow and Yin Yoga, plus group fitness classes, and be energised with healthy meals and power-blast super shakes.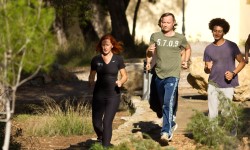 Be inspired on our exclusive Fusion Fitness™ holiday at
Aguas de Ibiza
and let the 38° North health and fitness gurus tone and shape you whilst enjoying some renowned Ibiza sunsets. From kickboxing to rooftop yoga classes, hiking to mountain biking, enjoy a full schedule of group exercise and personalised training for maximum results, unwind with spa treatments,
meditation
and enjoy healthy revitalising meals.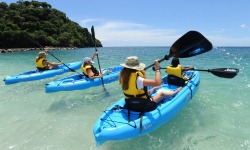 Buccament Bay Fusion Fitness, St Vincent
Choose from a
range of fitness and sport activities
on our exclusive Fusion Fitness™ holiday at
Buccament Bay
. Have a football or tennis lesson one day, boxing or circuit training the next and hike up La Soufriere Volcano for an adventurous three mile climb. Stretch and tone with yoga or
Pilates
and soothe tired limbs with a massage of your choice.
Talk to one of our Travel Specialists on 0203 397 8891 or contact us here to discuss tailor-making your perfect healthy holiday
.