5 of the Best Fitness Holiday Workouts

Working out is a key step in the quest to get fit and healthy, but which style is best suited for you? Whether you want to tone up, slim down or get fit mentally and physically, we take you through five of the best fitness workouts, so you can find the best method to achieve your goals. We also round up five of our handpicked luxury fitness holidays where you can enjoy all five of these workouts on one amazing healthy holiday!


Circuit Training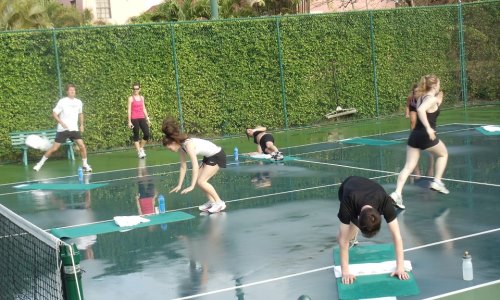 Circuit training is a high-powered workout style that incorporates both aerobic and resistance techniques to achieve super-fast results. If you want to shift those few extra pounds and tone up, circuit training may be the fitness programme for you. Using a variety of strength-based movements including squats, press-ups and core work, performed at a high-intensity, you can not only gain strength but also improve your cardiovascular fitness. Doing these movements as a circuit with little rest in-between will raise your heart rate and increase your aerobic capabilities. The effort you put in heightens your metabolic rate, burning off calories for hours after you finish. These types of fitness workouts can be performed without equipment, so you don't have to be a member of a gym to improve your health.


Martial Arts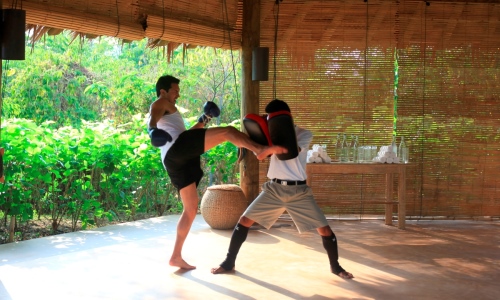 A one-on-one Thai boxing session at Absolute Sanctuary

An all-encompassing training style; improving speed, endurance, strength and acting as a fantastic stress-reliever. Whether you want to learn the sport of Muay Thai kickboxing or simply get a fun, energetic workout, the techniques are easy to learn so improved fitness is just round the corner. Incorporating jabs, upper-cuts and a variety of kicks, Muay Thai is a very popular sport in many countries around the world, none more so than the place of its birth - Thailand. Aerobic conditioning plays a big part in the sport, raising your heart and breathing rates to burn calories and improve your overall fitness. Workouts can release endorphins to help reduce stress and frustration, alongside the physical act of punching away any built-up tension, improving your overall wellness.


Strength Training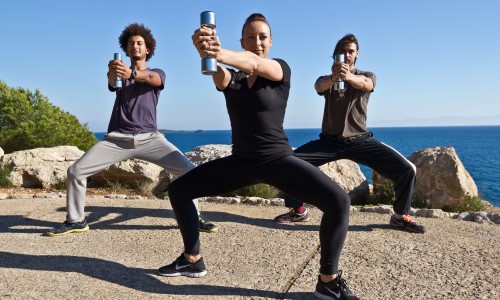 Strength Training at The Body Camp

If you want to improve your strength and tone your muscles, a well-structured weight-lifting programme is ideal. Weight-training has become more popular in the last few years with some form of strength-based work now a commonplace in many people's fitness regimes. Targeting muscle growth can be achieved by working in rep ranges of 8-12; higher rep ranges will also include an element of cardiovascular work and lower reps will work primarily on strength. Working out against your bodyweight is a good way to start and prime your muscles for growth, especially if you don't have access to equipment. Compound movements such as the squat and deadlift work multiple muscles at once so are perfect to help transform your body.
Cardio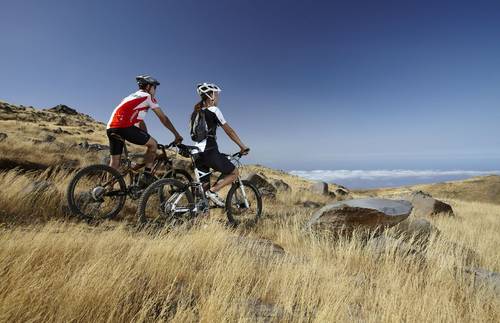 Cycling through the countryside at Galo Resort 


Why not head outside to get your heart racing? Cardiovascular fitness doesn't have to start in the gym, with disciplines such as running, cycling and 
hiking
 all improving your health with the added bonus of fresh air and increased vitality. Don't let fitness become monotonous; getting fit and enjoying yourself doesn't have to be mutually exclusive when you take it into your own hands. 
Cycling
 helps improves stamina whilst engaging a whole range of muscles from your legs to lower back to biceps and triceps. Taking your workout outside also benefits your respiratory system, so why not indulge yourself on a 
healthy holiday
 with a morning run along the beach or through a rainforest trail; stimulating your senses in stunning surroundings.
Power/Ashtanga Yoga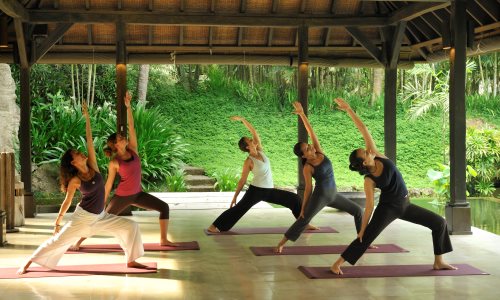 A group yoga class at The Farm at San Benito in the Philippines

Stretch out your muscles in a relaxed, calming atmosphere, learning how to better control your body. Ashtanga Yoga helps work your core muscles, toning legs, bums and tums whilst creating a sense of mental focus. There is an emphasis on deep breathing techniques, which teamed with the exercise, can help improve lung capacity and aerobic conditioning. Ashtanga Yoga employs methods to raise body heat, causing you to sweat and therefore help to detoxify your body. Yoga is more than just a fitness workout; its focus on mental strength also helps to combat stress, anxiety and contributes to overall well-being. Many spa holidays and resorts now offer both cutting edge and traditional yoga and relaxation classes to add to your healthy holiday experience.
5 Fitness holidays for 5 of the best fitness workouts
A bootcamp holiday for all your fitness needs. Under the guidance of expert trainers the bootcamp offers you opportunities to take part in a whole array of healthy holiday activities. If you want to increase your strength with their TRX suspension training, improve your body and mind with yoga or simply take in the scenery and fresh air with holistic cycling they have all bases covered. An early morning run down the beach is a must!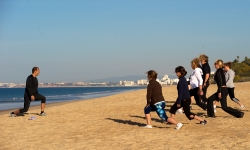 Here are some of the activities you can take part in on the Bootcamp:
Circuit Training: Circuit training on the beach and by the pool
Martial Arts: Beach boxing
Strength Training: TRX resistance training
Cardio: Holistic cycling, swimming, mountain biking and beach joggingYoga:Yoga and Pilates
Situated close to the beach and bordered by gorgeous vegetation, Absolute Sanctuary boasts a variety of classes and workouts designed to push you to your limits. Highlights of the fitness retreat include kickboxing and daily yoga classes including Ashtanga, Hot Flow and Yin Yoga. Whether you want to learn the basics of Muay Thai or have a beach-front circuit workout, you are guaranteed to be taken through your paces in the most stunning of locations.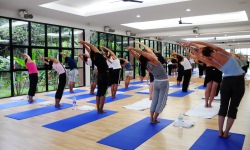 Have a look at what activities you can take part in:
Circuit Training: Beach bootcamp workouts
Martial Arts: Muay Thai kickboxing
Strength Training: Weight training sessions with personal trainer
Cardio: Sunrise walks, Thai fitness classes
Yoga: Ashtanga, Hot Flow, Yin Yoga and Pilates
 BodyHoliday in the Caribbean island of St Lucia is a luxurious all-inclusive wellbeing resort that offers a rounded approach to health and fitness. It's one of the best places in the world for a wide range of activities that will please even the most demanding fitness fan, including golf, swimming & Scuba diving, fitness classes and tennis courts.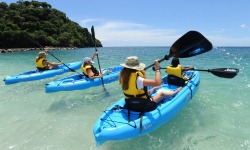 The retreat offers a whole array of fitness classes including:
Circuit Training: Interval training, assault course, pool circuit
Martial Arts: Boxercise
Strength Training: Arm, chest, back & leg workouts
Cardio: Volcano hike, swimming, beach jogging
Yoga: Yoga, Pilates
The Body Camp is an exceptional luxury fitness resort on the beautiful Mediterranean island of Ibiza. It focuses on retraining both the body and mind for a full personal transformation, with a fitness programme designed by first class health and nutrition experts. You will be eating three delicious meals and two snacks a day (to retrain your habits – focusing on portion control) without cutting out any major food groups. Superfood shots and smoothies as well as unlimited herbal tea will also power you through the day. The training is designed to help you gain lean and toned muscles by burning fat efficiently
Participate in a range of healthy workouts at Longevity:
Circuit Training: Circuit training with a personal trainer
Martial Arts: Boxing
Strength Training: Weight training, TRX
Cardio: Hiking, Aqua Fitness, sunset walks, dance
Yoga: Yoga, stretching, meditation and Pilates
Our Fusion Fitness holidays are a great way to experience a whole variety of activities, lessons and treatments designed to reinvigorate your body. Choose from Tai Chi to power walking, Thai boxing to TRX training, and tone your body whilst improving your overall well-being. This secluded wellness resort is perfect for a cleansing, holistic holiday. Why not take their Travel Training class and then relax with a traditional herbal Thai massage?
Here are just a few of the many classes Chiva Som offers:
Circuit Training: Travel training
Martial Arts: Thai boxing
Strength Training: TRX, Power Balance
Cardio: Mountain biking, beach power walk
Yoga: Ashtanga, Vinyasa Flow, Hatha, Pranayama, meditation, Tai Chi and Pilates
Talk to one of our Travel Specialists on 0203 397 8891 or contact us here to discuss tailor-making your perfect
Fusion Fitness
holiday.